Our Mission: In support of the military training mission, conserve and enhance the Air Force Academy's natural resources through the application of sound science and proactive stewardship practices.
The Natural Resources program manages the forests, rangelands,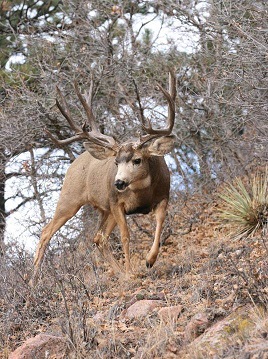 wetlands, wildlife, recreational fishing lakes, and multi-use trails on the US Air Force Academy, Farish Recreation Area, and Bullseye Auxiliary Airfield. Through a Cooperative Agreement with the US Fish and Wildlife Service, a team of USFWS biologists and foresters is responsible for managing the installation's 19,110 acres, of which more than 70% is natural open space. The staff works cooperatively with many partners, including local governments and organizations, Colorado Parks and Wildlife, US Forest Service, Colorado Natural Heritage Program, Colorado State Forest Service, and other DoD offices. The natural resource management program has received the US Fish and Wildlife Service's Military Conservation Partner Award and the Department of Defense General Thomas D. White Award.
Events and Services
Free DAV and Purple Heart fishing lifetime permits - see Fishing page for details
Airfield gate access badging for handicap fisherman - see Fishing page for details
Firewood sales by appointment - Monday-Friday - $40/cord
New Santa Fe Trail and Falcon Trail is open for public use
USAFA deer hunt - December 8-9 and 15-16, 2018
USAFA cow elk hunt - October 1, 2018 - January 31, 2019
Cow elk hunting lottery applications accepted from January 1 - May 31 - see Hunting page for details
Why Do We Use iSportsman?
Since introducing the iSportsman website, Natural Resources has received positive feedback on the improved access to information for our various programs and the convenience of being able to purchase hunting and fishing permits online. Importantly, the fishing program must be self-supporting – no taxpayer money is expended – so the permit fees must cover the annual cost of stocking the hatchery-reared fish. By using iSportsman to purchase your permits, our administrative costs are substantially reduced and more of your fee goes toward fish stocking and other natural resources and recreational amenities. Fishing permits sold over-the-counter at Outdoor Recreation, Farish Recreation Area, and FamCamp are subject to a processing fee, meaning we receive less net income for stocking, so we highly encourage anglers to use the online permitting system.
Please call Natural Resources at (719) 333-3308 for assistance or information.
Photo credits: Russ DeFusco, Greg Speights, Brian Mihlbachler, Steve Wallace, Diane Strohm, Colorado Natural Heritage Program (Michael Menefee)